KIDO ties up with Sơn Kim, targets international markets
Tuesday, 07 December, 2021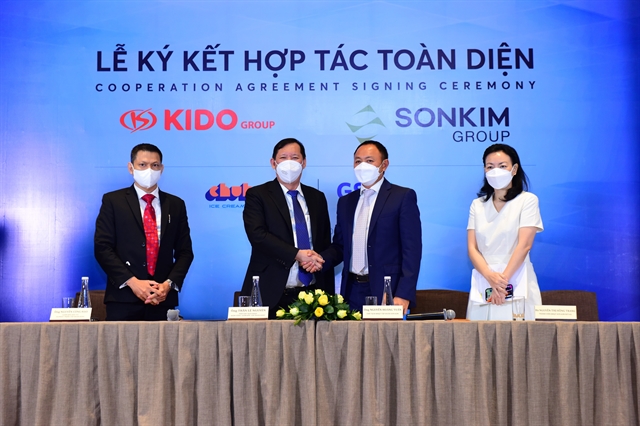 The co-operation agreement signing ceremony between KIDO Group and Sơn Kim Group in HCM City. — Photo courtesy of KIDO Group
HCM CITY — Food producer, the KIDO Group in HCM City has signed a co-operation agreement with Sơn Kim Group to develop their first food and beverage brand, Chuk Chuk, in the country and abroad in 2023-26.
This development plan is part of the co-operation agreement between the two companies which plan to develop retail, food production and real-estate projects in domestic and foreign markets.
At the signing ceremony, the two groups said their co-operation will be based on the strength of each other in which KIDO is a leading food producer with 30 years of experience and Sơn Kim is a giant player in retail and real-estate industries with GS Retail and GS25 chains as well as many online and offline supermarkets in South Korea and Asia.
The co-operation will help KIDO expand its retail sector to become the leader in food and beverage with the new brand of Chuk Chuk. With the co-operation, KIDO will also have a chance to reach the international market. In their turn, Sơn Kim will be able to expand their products and have more customers.
After the signing, both will officially implement the co-operation plan, which will focus on developing the retail chain in which KIDO Group's Chuk Chuk will be sold at GS25 stores.
By the end of 2022, it is estimated that Chuk Chuk products will be present at all GS25 stores. The brand will be developed in the entire country and abroad in 2023-26.
In addition, the other products of KIDO will be put into the Sơn Kim Group's retail chain.
In the next phase of the agreement, the two sides will co-operate in food production and bring food products to the international market.
In the real-estate sector, the two companies will jointly review and develop outstanding projects in the market.
Trần Lệ Nguyên, general director of KIDO Group, said that KIDO and Sơn Kim Group have specific advantages. When co-operating, they can bring the best products with good prices to customers.
"KIDO and Sơn Kim have been partners for many years. The co-operation will be a milestone helping the two companies expand business in retail, production and real-estate," said Nguyễn Hoàng Tuấn, chairman of Son Kim Group.
KIDO is a giant domestic food producer with many manufacturers in the country. The company has 570,000 points of sale. The company returned to the confectionary industry after six years and started developing food and beverages with the brand Chuk Chuk. — VNS